Bryce Brown has surely exceeded expectations of a typical seventh-round draft pick, rushing for 878 yards in two years behind star running-back LeSean McCoy.
There is talent in the middle rounds every single year, and there's a correlation between finding those players and consistent success as an organization.
This article isn't my list of 2014 Draft steals, that is still to come at a later date. This article is designated to finding the next Bryce Brown. Finding the five-star high school players who just didn't find their niche in college. Finding the players who haven't channeled their natural talent into a great college career.
Bryce Brown starred as a high school running back, earning the number one ranking in the country. He committed to Tennessee but didn't last there, transferring to Kansas State a year later. After a lackluster few years, Howie Roseman decided to spend a seventh-round pick on the talented running-back, which has clearly paid off.
Now let's look at some touted high school players in this year's draft class that didn't quite live up to their own hype.
OLB Devon Kennard (6-3, 257lbs) - Ranked #8 in 2009
An injury history has hindered the tremendous upside Kennard displayed in high school. His college career got off to a slow start but flashed a little bit in 2013, totaling 9.0 sacks.
His pass-rush technique is under-developed but he has great versatility, spending a full season at MLB for the Trojans in 2010, showing he's comfortable in space. Also, Kennard has all the intangibles a team could want in a player, 2013 team captain at USC, 3.23 GPA student.
Kennard is projected to be on the board until the 4th-6th round.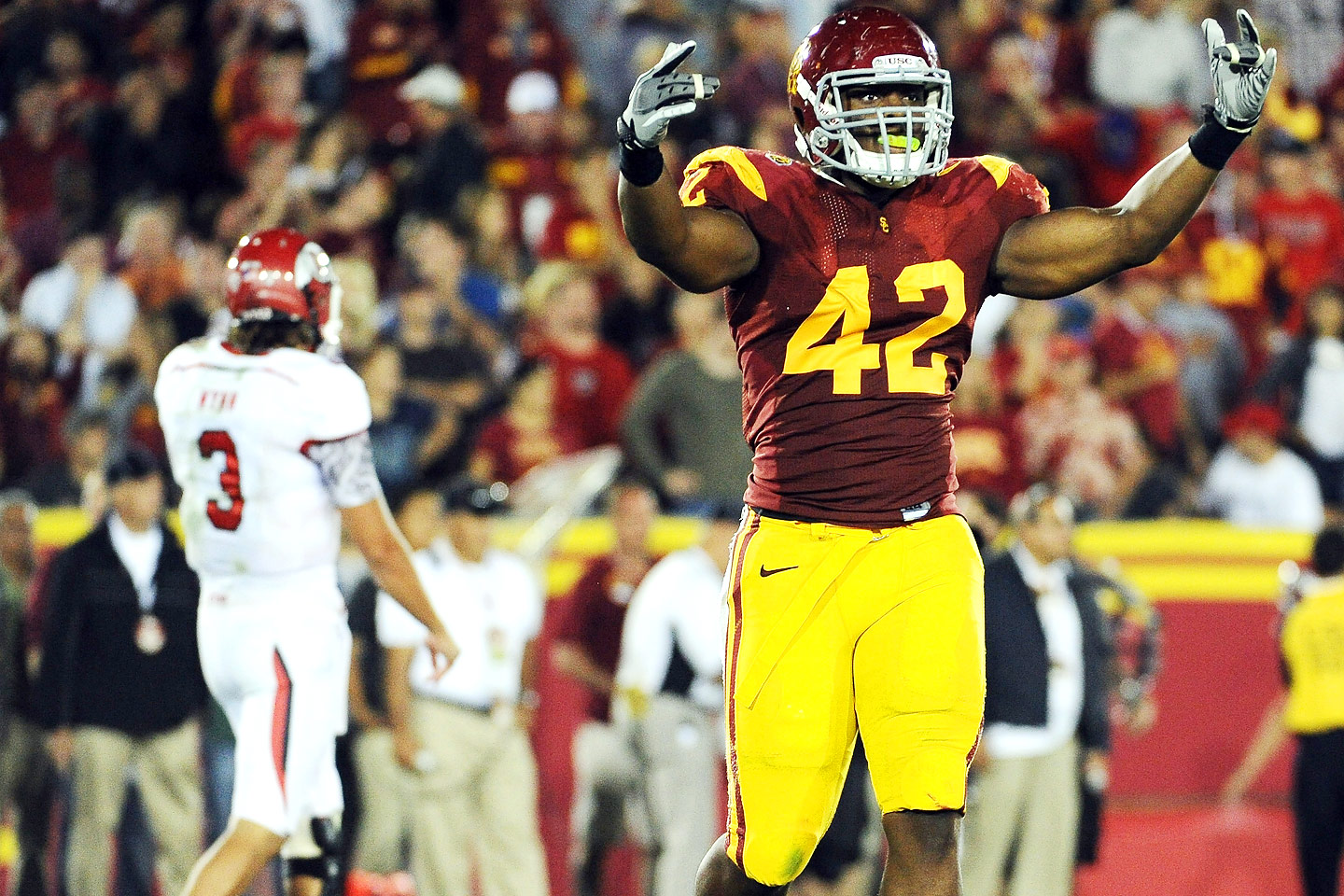 Injuries have slowed Kennard down,
but 2013 was a rebound year.
S Craig Loston (6-1, 214lbs) - Ranked #20 in 2009
As a five-star recruit, Loston chose LSU. He never quite developed into a dominant play-maker, but he has flashed at times.
Loston is a big-hitter who protects the middle of the field. He's a poor-man's Eric Reid, but that's not necessarily an insult. He's an athlete with good size, above-average speed and explosion. His coverage skills need to be refined, but the physical ability is there.
He's a projected 3rd-4th round pick.
OLB Ronald Powell (6-3, 240lbs) - Ranked #1 in 2010
I love Powell. For more analysis on him, check out
my first look at the draft.
Powell is viewed as a 3rd-4th round prospect.
DE Dominique Easley (6-2, 298lbs) - Ranked #7 in 2010
Easley's name also graces my first article on the draft. I like his natural ability and production. Injury history is really the only thing holding Easley's stock back, along with a few height concerns with some scouts.
Easley should be available in the late-2nd to mid-3rd round.
OLB Aaron Lynch (6-5, 248lbs) - Ranked #28 in 2011
Aaron Lynch is a really intriguing guy. As a four star recruit, Lynch chose Notre Dame, but transferred to South Florida after one year to be closer to home, a la Bryce Brown.
Lynch has tremendous size and versatility. He has great burst and athleticism, rushing the passer from many different positions.
The production isn't on par with other top 3-4 OLB prospects, but the physical ability is right up there at the top. Lynch has also matured a lot from his early years, and doesn't have any off-the-field problems.
He's projected to fall somewhere on day three of the draft.
Lynch flashed big potential before
transferring to South Florida.