It wouldn't be a normal October in Philadelphia without some kind of buzz surrounding the NovaCare Complex. The hot topic this week: is it time for Chip Kelly to begin the Nick Foles era?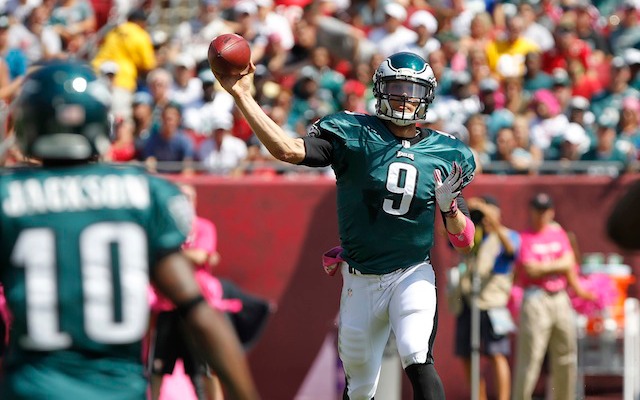 Foles was in command all last Sunday
Foles has looked stellar this season, nobody can deny that. But Michael Vick was putting together a solid year himself, before pulling his hammy in the second quarter against the Giants.
Instead of looking at overall numbers, I wanted to delve a little deeper into the key aspects that make a winning quarterback. To be a successful quarterback in this league, you must win.
The three key areas are third-down passing, red-zone efficiency, and fourth quarter passing.

After all, keeping drives alive, getting seven points versus three, and saving the best football for the fourth quarter sounds like a winning formula, huh? What a simple game.
Now let's compare the two in 2013:
Third-down Passing:
Michael Vick: 41% completion percentage, 4.9 yards per attempt, 28% conversion rate
Nick Foles: 80% completion percentage, 8.6 yards per attempt, 53% conversion rate
Red-Zone Efficiency:
Michael Vick: 5-19 38 yards, 1 TD, 0 INT. 57.1 QB rating. 6 TDs in 14 red-zone trips.
Nick Foles: 5-9 37 yards, 3 TD, 0 INT. 105.1 QB rating. 4 TDs in 7 red-zone trips.
Fourth Quarter Passing:
Michael Vick: 17-32 255 yards, 0 TD, 0 INT. 79.6 QB rating.
Nick Foles: 9-14 198 yards, 4 TD, 0 INT. 147.3 QB rating.
Should Foles be the Eagles starting quarterback moving forward? Well, that critical trio certainly favors him.
Foles has delivered in the 4th quarter.
Let's play a common game called Fact or Fiction.
FICTION:
Foles' numbers are skewed because it occurred against winless opponents.
- While the Giants and Buccaneers certainly aren't good teams, Foles' numbers are legitimate. In the Meadowlands, Vick was 6-14 for 105 yards against the same defense Foles shredded in the second half. Plus, Foles didn't have a run game for support as the Giants bottled up LeSean McCoy.
- The Buccaneers have a really stout defense. Look at the numbers:
Against the Buccaneers Defense:
Tom Brady: 25-36 225 yards, 2 TD, INT
Drew Brees: 26-46 322 yards, 1 TD, 2 INT
Nick Foles: 22-31 296 yards, 4 total TD, 0 INT
FICTION: LeSean McCoy and the ground game will be negatively impacted by a pocket passer in Chip Kelly's system.
- Tampa Bay has been known for it's penetrating defensive line and fast linebackers. Here are some more statistics to ponder:
Top Rushers vs. Tampa Bay Defense:
Week 1: Geno Smith - 47 yards
Week 2: Pierre Thomas - 29 yards
Week 3: LeGarrette Blount - 65 yards
Week 4: Andre Ellington - 29 yards
Week 6: LeSean McCoy - 116 yards
FICTION:
The read-option is a thing-of-the-past with Foles in the gun.
- The read-option doesn't always need the quarterback to be an explosive running threat. The read-option can be successful with a play-action threat.
- After studying the Tampa Bay tape, the unblocked "read" defender had to honor the play-action pass option. Foles was hurting Tampa all afternoon with the play-action fake. That hesitation allowed Shady to burst by and make positive gains.
The bottom-line is both quarterbacks have shown they can run Chip Kelly's offense effectively. If Foles goes out this Sunday and has a turnover-ridden performance, the QB discussion evaporates. Michael Vick will be handed over the keys to the high-powered engine.
But, if Nick Foles goes out and delivers against the NFL's 30th ranked defense, he's made his case to takeover the Eagles offense moving forward.
*Follow me on Twitter @Matt_Chastain25 and @OfficialEagles_, I'll get you back.