The Eagles exciting 2013 season came to a close last Saturday after a heart-breaking loss to the New Orleans Saints in the Wild-Card round of the playoffs.
Despite the disappointment stemming from that performance, winning the NFC East a year after plummeting to a 4-12 record is something to build off of. Especially under a new head coach that many people doubted, just ask Heath Evans, Skip Bayless or Phil Simms, to name a few.
There was a lot of turnover with the roster last offseason, which was to be expected with a transitioning defense and a new coaching staff. However, there are still some holes on this team that need to be addressed.
I'm going to delve into some specifics and come up with my plan to improve the roster heading into the 2014 season, which does feature a tough schedule on paper.
First, let's just start with a look at the current roster. There are many players who just haven't worked out, or are just flat out overpaid for the value they provide. One thing to note, Howie Roseman can't just cut whoever he wants, because cutting players can result in cap penalties known as dead money. Essentially it's money that counts against next year's cap even after the player is released.
Here's my list of players who are overpaid for their value:
WR Jason Avant
(447 yards, 2 TDs):
Avant is a leader, he's tough, relilable, and he's a great blocker. However, he's going to be 31 years old next season and will account for $3.96M against the cap. With more productive wide receivers Jeremy Maclin and Riley Cooper becoming free agents, the Eagles could use that money to help sign those two.
Plus, cutting Avant would only result in $710K against the cap in dead money. That's a net savings of $3.25M. With the pass game featuring a potential cluster of DeSean Jackson, Cooper, Maclin, Celek, Ertz and McCoy, is Avant still worth that money? Plus, Chip and Howie could target a young WR in the draft, potentially a De'Anthony Thomas or Josh Huff from Oregon in the middle rounds.
TE James Casey
(31 yards, 0 TDs):
James Casey was given a big contract by Philadelphia early in free agency, but was virtually useless other than blocking. He's slated to make $3.985M next season, and would account for $1M in dead money if cut, net savings of $2.985M.
The TE position is slated to earn over $9M as a group next season. It makes a lot of sense to cut that down. Howie can find a blocking TE in free agency for essentially nothing. The position would seemingly not miss a beat with Celek and Ertz manning it in 2014. I think Casey is gone.
OLB Trent Cole
(56 tackles, 8.0 sacks):
Trent Cole was a professional all season long. He gave 100% on every snap and didn't complain about switching to a new position. However, the Eagles just need more speed off the edge. Overall, their four-man pass-rush was virtually non-existent.
There is a major problem, though. Cole counts for $6.6M against the cap, which is too high for his effectiveness as an OLB. But cutting Cole would result in $4.8M in dead money, which I don't see Roseman being comfortable with.
With Cole turning 32 in October, I don't imagine many teams are licking their chops to make a trade. I could see the Eagles making a trade similar to the one they made with Atlanta in 2012 for Asante Samuel: trade Cole for a late-round pick just to shed the salary.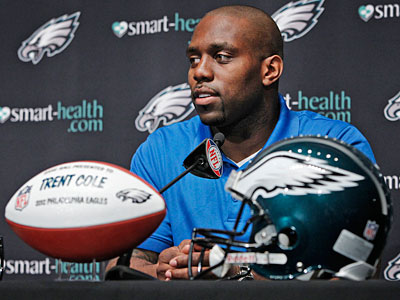 Cole signed an extension in 2012.
OLB Brandon Graham
(19 tackles, 3.0 sacks):
Brandon Graham has been lackluster since the Eagles drafted him infamously ahead of safety Earl Thomas in the 2010 NFL Draft. He's slated to count for $3.315M against the cap. Too much for a guy who made 19 tackles in a 16-game season.
The bad news? Cutting Graham would account for $3.415M against the cap, the Eagles would lose money by cutting ties with the former first-rounder. The good news? Graham is only 25 years old and has been fairly productive as a 4-3 defensive end. I could see a team willing to part with a late 5th or 6th-round pick to snatch the pass-rusher. I think it would be good for both sides to move on.
CB Cary Williams
(67 tackles, 3 INTs):
Cary Williams isn't going anywhere most likely. But he is overpaid. Williams will take up over $6M in cap next year. Cutting him would result in over $3M in cap penalties. He's a solid tackler, and he makes the occasional play, but I think Bradley Fletcher is far more consistent, and far cheaper. Plus, I think Billy Davis should work with Brandon Boykin this offseason to develop him into an outside corner.
Cutting ties with Williams via trade could free up major cap space to re-allocate to maybe safety, and allow Boykin to become a full-time starter. Getting the best 11 players on the field is essential and Boykin can handle it. This is all speculation though, just giving options.
S Patrick Chung
(59 tackles, 0 INTs):
5th-round rookie Earl Wolff performed far better than Patrick Chung this season. Chung was the clear liability in the secondary. Slated to take up $3.25M of the cap, he's as good as gone. Cutting him would result in $1M in cap penalties, but the surprisingly-dependable Nate Allen is a free agent, and using Chung's savings on re-signing him would be wise.
K Alex Henery
(1 gigantic miss in the playoffs, terrible touchback percentage):
Leave. Just leave and never come back.
Before anybody sends me hateful messages, I'm just stating players in which I find overpaid. I'm also just giving options on how to better use that money. In no way am I saying every one of these players should be cut.
Now let's look at another money saving option. Here's a short list of players who could be asked to take a pay cut. Any of the above players could fit into this list as well, except for Henery of course, who would make for a low-end college kicker.
RG Todd Herremans
Herremans is a solid piece to a very good offensive line. However, he is aging, and his pass blocking isn't what it used to be. According to Pro Football Focus, Herremans allowed 35 QB hurries this season, second in the NFL. He's set to earn $4.2M against the cap, I'm thinking somewhere around $3-3.5M is more fair for his duties.
ILB DeMeco Ryans
(127 tackles, 4.0 sacks, 2 INTs):
DeMeco Ryans is a leader, and he's a solid as they come in terms of performance. He will be 29 years old when the season starts, and his pass coverage can be shaky at times. He's expected to account for $6.8M against the cap next year. His value is tremendous to the team, but a number between $5.5-6.0M seems more reasonable.
Ryans is essential to this defense.
Herremans and Ryans are players I expect to play well for the Eagles in 2014. I'm just exhausting every money saving option I can. The more money available, the more flexibility Howie Roseman and company will have to improve the entire team.
Now let's take a look at Philadelphia's own free agents, and which ones should be back in midnight green.
WR Jeremy Maclin
(857 yards, 7 TDs in 2012):
Maclin seems to fit everything Chip Kelly looks for in a receiver; he's explosive, he's fast, he has decent size, he can block. In my own opinion, the biggest value he has is on opposing defensive coordinators.
Riley Cooper was very productive this year, but Maclin is more explosive and more similar to DeSean Jackson. This would open up Jackson's opportunities and make him even more of a threat. Plus, Chip could move Maclin around in a similar way to Jackson because of their skill sets.
Maclin is coming off a major injury, but he's ahead of schedule, and they wouldn't have to guarantee much money in the deal. This is the most important early signing.
Maclin would improve a Kelly's offense.
WR Riley Cooper
(835 yards, 8 TDs):
The production doesn't lie. Nick Foles and Cooper have some kind of connection. A WR trio of Jackson, Maclin, AND Cooper would be as good as there is in the game.
I honestly believe Cooper's racial slur this offseason will lower his asking price. Think about it, his teammates have welcomed him back just fine in Philly. But will another team want to bring Cooper in, then quickly put out any potential fires in the locker room?
Roseman has a unique call here at receiver. Bring back one, both, or neither? I hope for both, but we will find out soon enough.
S Nate Allen
(82 tackles, 1 INT):
After a terrible start to the season, Allen really figured things out and played solid football. He wouldn't be too expensive, and he knows Billy Davis' defense. He deserves another year in Philadelphia.
S Colt Anderson
:
Colt is cheap and he's a special teams ace. With the emphasis Chip puts on special teams, it seems like a good fit.
DE Cedric Thorton
(60 tackles, 1.0 sack):
Ced is a restricted free agent. He'll be back. He's got solid size, and he's one of the best run-stuffers in football.
That's it for Part One. Part Two will take a look at free agents, and Part Three will take a look at early draft options that make sense.