When most fans and Draft Analysts look at a team's roster, they check the starting lineup and single out weaknesses. There's nothing wrong with that, but there is a bigger picture in mind.
Depth is important. There's almost always going to be drop-off when a starter goes down, but the deep teams can still play good football and win games.
If Jason Peters were to go down, Allen Barbre would step in and the offensive line unit would still be strong.
If Bradley Fletcher injures his knee, newly-acquired Nolan Carroll has starting experience in the NFL.
If Nick Foles suffers a concussion, Mark Sanchez can step in and win a ballgame.
But, if Connor Barwin were to suffer an injury, who could adequately fill his role? I can't think of anybody.
It's an underrated need for the Eagles, a team which only had one true 3-4 OLB on the 2013 53-man roster. Brandon Graham can't cover like Barwin. Casey Matthews can't rush the passer like Barwin. The Eagles should consider grabbing a late-round OLB in this year's draft who has a solid, balanced skill-set.
Those all-around players actually tend to fall on draft day. Teams are looking for pass-rushers, these players are OK at a lot of things, but not great at one thing. Here's a list of five mid-late round prospects who could provide some insurance behind Connor Barwin.
Devon Kennard (6-3, 249)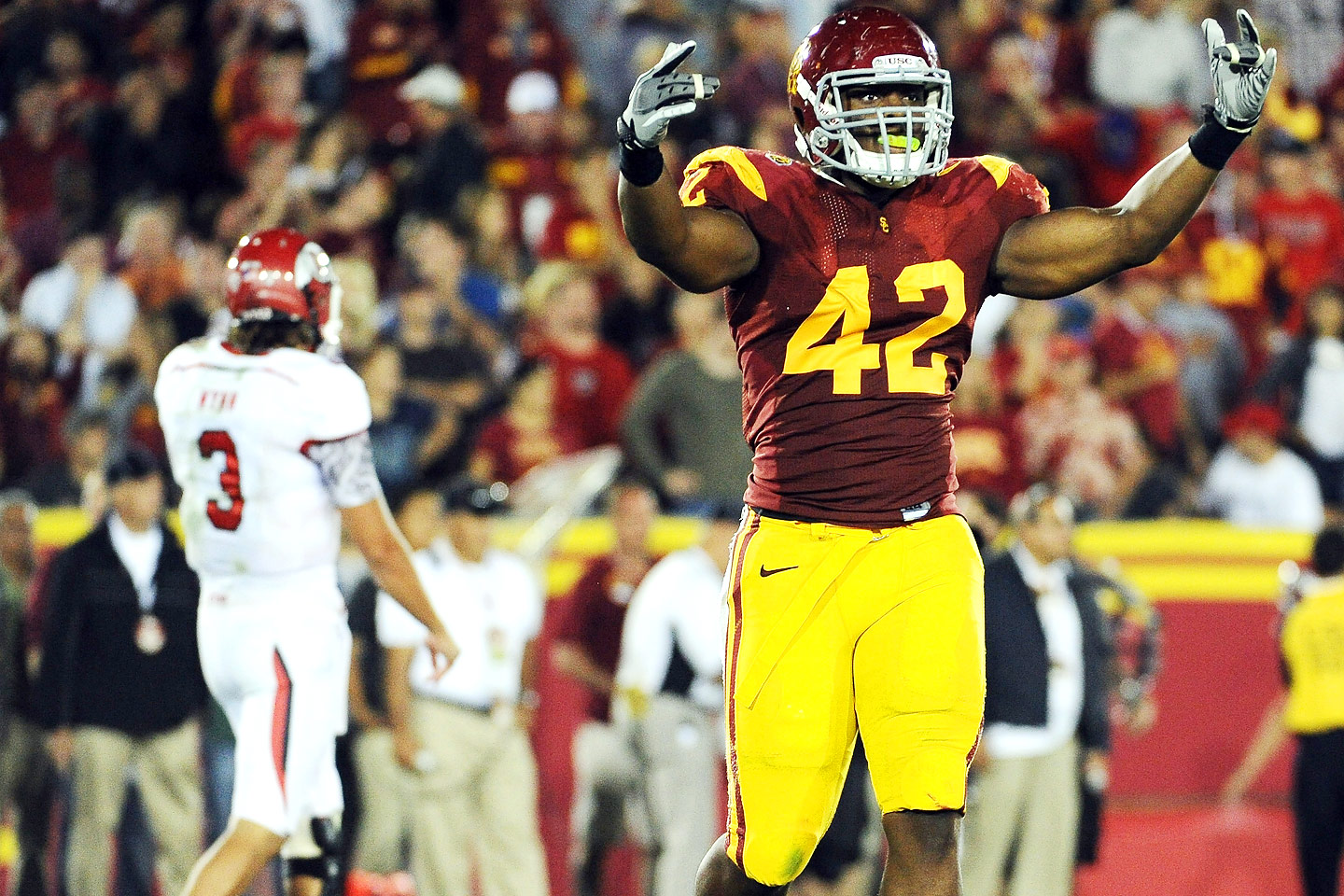 Kennard has decent size and good arm length. He played DE, OLB, and MLB at USC, where he was team captain. He's not an explosive player, but he's comfortable in short coverage assignments, he can put some pressure on the QB, and he possesses good strength vs. the run. There are durability concerns, but he could be a solid pro.
Trent Murphy (6-5, 250)
Trent Murphy is the Connor Barwin of the Stanford defense. He had 15.5 sacks in 2013, but most of them were hustle sacks rather than beating tackles. Murphy can shed blocks, move fluidly in space, rush the passer, and he's an instinctual player. He's not a great athlete and should add bulk. He won't cover TEs down the seam, but he can effectively cover the flat and short zones.
Trevor Reilly (6-5, 245)
He's a strong, tough, smart player. He played a very versatile role at Utah and is comfortable playing in space and setting the edge vs. the run. There are durability concerns with Reilly and he'll be a 26-year-old rookie.
Adrian Hubbard (6-6, 257)
Hubbard is effective doing a lot of things, but doesn't excel in one area. Obviously he has great size, but Hubbard is also quite the athlete. He ran a 4.69 40 at the Combine, and can cover down-field. Hubbard plays the run well at times, shedding blocks and making the stop. He isn't an explosive rusher and only produced 10 career sacks. There have been multiple reports pointing to Hubbard's very cocky personality, which could be a concern.
Prince Shembo (6-1, 250)
Shembo is the least versatile of the five, but he's a good pass-rusher and sets the edge well against the run. While he doesn't possess elite athleticism or fluid change-of-direction, Shembo has experience as a 3-4 OLB at Notre Dame. He also is a good teammate with a relentless motor.
All of these prospects should be available in the middle rounds. In my opinion, the best strategy would be to see if any fall to the 5th round, where the value is very good. Any of these five players would provide the Eagles with versatile experience behind Connor Barwin. Insurance.