The Philadelphia Eagles are the class of the NFC East.
On paper, the New York's secondary looks good.
On paper, the Washington's offense looks more explosive.
On paper, Dallas' defensive line looks ... well ... it just looks awful.
There are two things lacking from Philadelphia's division foes: continuity and chemistry. And those things matter, and matter a lot.
Dallas Cowboys (8-8 in 2013)
Dallas is returning just 15 of 22 starters from 2013, five of the defense's front-seven are new faces. The defense has its third defensive coordinator in three years. Plus, the Dallas Cowboys are relying on a rookie and two players coming off major knee injuries for their primary pass-rush (Demarcus Lawrence, Anthony Spencer, Henry Melton).
As far as chemistry is concerned, the Cowboys have their share of enigmatic personalities, *cough* Dez Bryant. Demarcus Lawrence was dropped way down on many team's draft boards due to character red flags. Plus, plugging in seven new starters won't be an overnight thing. The defense is sure to have some communication blunders throughout the season.
New York Giants (7-9 in 2013)
The Giants have completely re-built their secondary and offensive line via free agency. New York is returning only 14 of 22 starters from 2013, and that's not counting CB Walter Thurmond who will take over the primary slot role. The anemic and confused offense from 2013 is bringing in two new offensive linemen, a new RB tandem, a starting rookie WR, and a new TE. Oh yeah, and a whole new scheme as OC Ben McAdoo makes his way over from Green Bay.
The Giants aren't loaded with jerks, but it's going to take awhile for everybody to be on the same page, especially on offense, which is a scary thought for an offense that was completely out-of-sync last season. And we all know that adding a bunch of free agents (17 in New York's case) never helps a team's unity.
Washington Redskins (4-12 in 2013)
The Skins, like Dallas, are only returning 15 starters from last season. And like New York, they thought it was a good idea to sign a bunch of guys off the street (12 free agents according to my research). Jay Gruden is a first-time head coach bringing in a new offensive philosophy. I would complement Washington's decision to bring back Jim Haslett on defense, but that unit hasn't improved much in his time as coordinator. To add to their continuity issues, nobody really knows if RGIII will return to his rookie form.
How about team chemistry? Well it's no secret that DeSean Jackson wasn't a big hit in Philly's locker room. DeAngelo Hall and Trent Williams aren't known for being great guys, plus Jordan Reed has his share of red flags coming out of Florida last year. Pair that locker room uncertainty with a new head coach and you have a recipe for a steep learning curve.
Philadelphia Eagles (10-6 in 2013)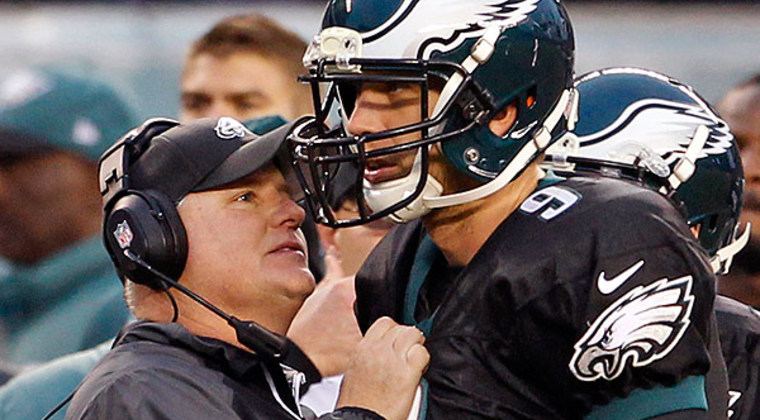 The Eagles, on the other hand, are returning 21 of 22 starters. Chip Kelly is established and endeared in the locker room. His complex offensive scheme is comfortable to the players, rather than a foreign language like last off-season. Billy Davis is joined by pretty much the same group in defensive meetings, with the ability to add some creativity to his scheme.
As far as team chemistry is concerned, the Eagles rid themselves of perplexing receiver DeSean Jackson. One would think the offense would suffer, but it's ready to thrive in 2014. The unit added ultimate team-guy Jeremy Maclin, respected teammate Darren Sproles, Vanderbilt team-captain Jordan Matthews, and hard-nosed Josh Huff, who's already acclimated to Chip's verbiage.
Eli Manning and Tony Romo are on the decline. Nick Foles won't match the numbers he put up in 2013, but he'll be a more comfortable, confident starting QB in 2014. He's "the guy."