Howie Roseman took over a major leadership role in the NFL Draft starting in 2012. A draft class which included Fletcher Cox, Mychal Kendricks, Nick Foles and Brandon Boykin.
It was the first draft I can remember that didn't include a head-scratcher, i.e. Daniel Te'o-Nesheim, Curtis Marsh, Danny Watkins.
In 2013, Roseman followed that up with another strong performance, drafting promising players Lane Johnson, Zach Ertz, Bennie Logan, and Earl Wolff.
On paper, the Eagles 2014 class is earning solid grades, but it's premature to call it a success.
I wanted to delve deeper into Roseman's draft strategy to see if it he hit some lucky home-runs the past couple years or if this draft success is sustainable.
Philadelphia is picky. There's certain boxes each draft pick needs to check before Roseman and Kelly are comfortable pulling the trigger. There will always be exceptions, but it's a reliable rule of thumb.
Level of Competition:
Projecting small-school players to the NFL is a risk. Moving from the SEC to the NFL is a major jump, so a player from the MAC, for example, will find the talent disparity to be astronomical.
Any time scouts can watch a player match-up against NFL-caliber talent, it makes the projection much more realistic. Bennie Logan faced NFL-caliber linemen on a weekly basis in the SEC, which led to the Eagles being comfortable projecting Logan's performance to the NFL.
Position Experience:
Any time a team asks a rookie to change positions, it steepens the learning curve. This is especially difficult when scouting 3-4 OLBs since limited college programs run a 3-4 base defense.
Dee Ford and Jeremiah Attaochu have practically no experience playing in space. This makes them projections at OLB in Kansas City and San Diego. Marcus Smith on the other hand, played a multiple role at Louisville, showing great comfort in coverage and rushing the passer.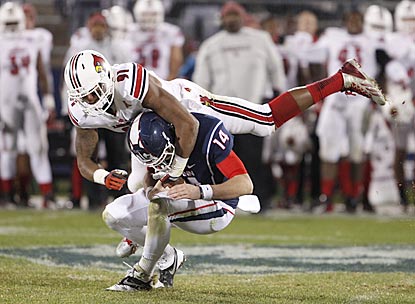 Versatility:
This trait is especially important for the Eagles under Chip Kelly. He likes many positions to do multiple things and line up in different locations. Asking a one-dimensional college player to take on new assignments in the NFL is a big-time gamble.
Jaylen Watkins showed tremendous versatility at Florida, starting at corner, safety, and in the slot. Philadelphia prefers to see guys show versatility in college, rather than looking at their skill-set and projecting it.
Size:
Chip wants a certain size and length at each position. These scales are flexible however; Brandon Boykin doesn't have the height desired for corner, but his production speaks for itself. In general though, Kelly is looking for long, athletic bodies on defense. He also likes size and length along the offensive line, especially at tackle.
Big people beat up little people, right?
Upside:
There are guys in each draft that have limitations, whether it's size limitations (Brian Rolle) or athletic limitations (Daniel Te'o-Nesheim). More often than not, these players will have successful NFL careers as back-ups and core special-teamers.
In Chip Kelly's scheme, size, length, and athletic ability are vital. He wants athletes all over the field. Lane Johnson possesses rare athleticism for an offensive lineman. In last year's draft, many experts pegged Johnson as having more upside than Eric Fisher and Luke Joeckel.
Work Ethic:
Finding players who pair physical ability with strong work ethic is a beautiful thing. Take a look at players like JaMarcus Russell and Rolando McClain. Both had great physical gifts, but neither wanted to put the time in, both are out of the NFL. Chip wants guys who put in the extra hours after practice.
Jordan Matthews is a perfect example. He has great measurables but his work ethic is unmatched. Senior Bowl Director Phil Savage said Jordan Matthews spent hours studying opposing cornerbacks after practice to maximize his performance.
Character:
It doesn't matter how talented or productive a player is if he doesn't see the field. Arrests and/or failed drug tests will lead to suspensions, ask Josh Gordon. Character also matters in the locker room. The best team wins the Super Bowl, not necessarily the most talented group of players. Successful teams have players who play for the man next to them.
When players check all these boxes, the rate of failure drops significantly. There's always going to be hard-working, talented players who don't make it, that's unavoidable. But when teams limit the reasons for failure (poor work ethic, off-field trouble, athletic limitations) they're giving the team and player the chance to succeed.