The Eagles only have six selections in next week's NFL Draft, but Howie Roseman has essentially equipped the team with three bonus picks.
Bonus picks sound imaginary, don't they? Well they are. But the idea is real.
The team added three players last off-season with complete knowledge that they would not contribute to the team in 2013.
OT Michael Bamiro (6-8, 340lbs)
Bamiro is a monstrous tackle who had unique circumstances which led to him dodging the NFL Draft and the NFL's Supplemental Draft. He was a college player who basically became a free agent. 22 NFL teams were represented at his private workout. An NFC Personnel Director went on record to say Bamiro would've been a 5th or 6th round pick in the 2013 NFL Draft.
Bamiro was named an FCS All-American at Stony Brook. He has elite size and extremely long arms. Another scout said he had the athleticism of a basketball player, which is intriguing at that size. He has a lot of untapped potential and will get some reps this Spring.
DE Joe Kruger (6-6, 290lbs)
Chip Kelly pulled the trigger on Joe Kruger in the 7th round of last year's draft. Kruger was an underclassman weighing in at 269. Kelly mentioned Kruger as a potential 2nd or 3rd round talent had he stayed another year at Utah. Kelly also wanted Kruger to get up to around 290 pounds. The Eagles scouting department looks at a player's body type to see if it can sustain more weight while maintaining explosiveness.
Kruger missed the 2013 season due to injury, but it was unlikely he would have played any snaps if healthy. With Kruger, it was always about the bigger picture. In recent interviews he seems hungry and focused. I expect Kruger to be an important part of the 2014 Philadelphia Eagles.
OLB Travis Long (6-4, 252lbs)
In his senior season, Long tore his ACL in November, which led to him being undrafted. At Washington State, Long accumulated 20.5 sacks and 42 tackles for loss in 47 career starts. He played a versatile role at WSU, he's a big kid with long arms. Long is known as a smart, high motor player with strong work ethic.
Long is a guy Chip Kelly has raved about on multiple occasions this offseason. He's fully healthy now and is looking to earn a spot on the Eagles 53-man roster.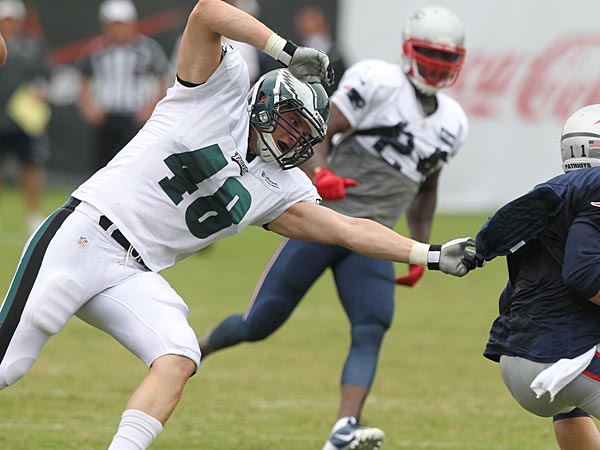 These three players have a combined zero career snaps in the NFL. However, the talent is there. The plan was for 2014 to be their de facto rookie year. So while the Eagles only have six draft selections, these three players will essentially be first-year guys joining the rookie class.