Here's my edge rusher rankings and where I'd be comfortable drafting them. Two things to keep in mind here: Khalil Mack and Jadeveon Clowney are not included. There is no chance they make it close to 22, and the Eagles aren't trading up into the top 10. Another thing is these rankings are based on fit in Philadelphia, not as a general outside linebacker prospect.
Before I begin, here's my idea of what Chip Kelly is looking for in a 3-4 ROLB. Connor Barwin is the jack-of-all-trades player at LOLB. He does everything pretty well but isn't a dynamic edge rusher. The other outside linebacker spot is reserved for an explosive force around the edge. Chip is looking for length and athleticism, which is a common theme.
1. Anthony Barr (6-5, 255) - First Round
Barr is long, extremely athletic, and moves well in space. He's been productive in the past two years at UCLA, and has a good burst off the snap. He immediately provides the defense with length and pure athleticism. He is a bit raw and is more of a speed rusher than a polished product. He has no ceiling. Barr can be an elite player.
2. Dee Ford (6-2, 252) - Late-First Round, Early-Second Round
Ford has the burst and speed off the edge that Philadelphia sorely needs. Trent Cole doesn't fire off the ball at age 32. Ford doesn't have elite height, but he possesses long arms to compensate. He has the flexibility to bend the corner, which is an underrated trait for effective edge rushers. He's a hard worker, but wasn't asked to cover at Auburn and may struggle to set the edge vs. the run.
3. Jeremiah Attaochu (6-3, 252) - Second Round
Attaochu has good length and athleticism. He bursts off the ball quickly and has a nice inside move to compliment his speed rush. He also has the flexibility to turn the corner, and has solid lateral movement to play in space. Attaochu was a quick learner at Senior Bowl practices. He can play reckless at times and his technique could use some polish however.
4. Marcus Smith (6-3, 251) - Second Round
Smith has great speed and athleticism, often the first one firing off the ball. His 34" arms pair nicely with good height for the position. He has big upside and strong work ethic, which also pair together nicely. He wasn't asked to cover much at Louisville and doesn't anchor well against the run.
T-5. Kony Ealy (6-4, 273) - Late-Second Round, Early-Third Round
Ealy is a better athlete than his 40 time indicates. He has good burst off the snap and uses his hands well. While he's a projection as an OLB, he changes directions fluidly. The upside is there, but he hasn't played in coverage and plays with a high pad level. A lot of questions need to be answered before he successfully transitions to OLB, but the upside is there.
T-5. Demarcus Lawrence (6-3, 251) - Late-Second Round, Early-Third Round
Lawrence, too, has long arms, but has much more variety in his pass rush moves compared to Attaochu. He played a versatile role at Boise State, showing good strength vs. the run. He has limited experience covering in space, and has some character questions that need investigating.
7. James Gayle (6-4, 259) - Fourth Round
Gayle is physically gifted. He fires off the edge, displaying explosion and good athleticism. He has a little experience in coverage and was a three-year starter at Virginia Tech. He will struggle to change his momentum quickly, leading to missed one-on-one tackles vs. quicker athletes. Gayle is a little linear, but has raw upside.
8. Ronald Powell (6-3, 237) - Fourth Round
Powell is the former number one player out of high school, the natural talent is there. He's a gifted athlete with good closing speed. He played a very versatile role at Florida and had production when healthy. His pass-rush technique is raw, he lacks strength vs. the run, and his injury history is extensive to say the least. Boom or bust player, in my opinion, a lot depending on his health.
9. Jackson Jeffcoat (6-3, 247) - Fifth Round
Jeffcoat is another athletic player. He changes directions extremely smoothly and accelerates in an instant. He was very productive at Texas, but must get stronger to succeed in the NFL. His motor runs cold and his love for football is definitely a concern, which is a big red flag for me.
10. Howard Jones (6-2, 235) - Fifth Round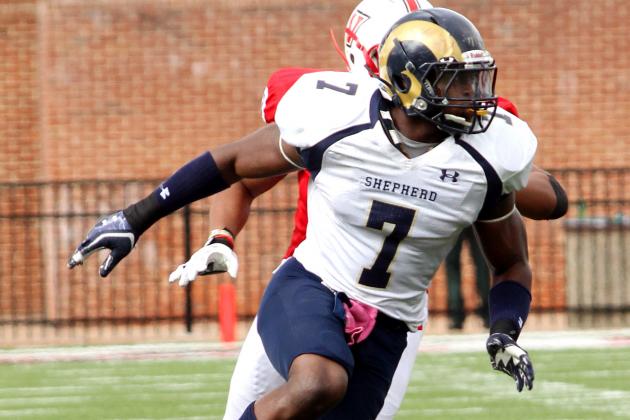 It's rare that I'm comfortable with drafting a project in the fifth round, but Jones' athleticism is on another level. He has over 34" arms, runs a 4.60 40, has a 124" broad jump and a 40.5" vertical leap. He explodes off the edge, although out of control at times. He's flexible to turn the corner, piling up 34.5 sacks and 71 tackles for loss with limited technique. Jones is a guy who may contribute in a situational role early, but could become a dynamic player if he's coached up.
Here's a couple bonus UDFA targets with upside:
Nate Askew (6-3, 241)
It's uncommon that an edge rusher runs a 4.46 40 yard dash, especially at 6-3 with 34" arms. Askew has only played the position for a year, but shows natural burst off the ball among other explosive traits. He's raw, but a year on the practice squad could develop Askew into a solid rotational pass-rusher on Sundays.
Jonathan Newsome (6-3, 247)
Newsome was recruited by Ohio State, but transferred in 2011. He fires off the edge and has had success as a speed rusher. He makes the big hits that change momentum and he's taken some reps in coverage. He needs to get stronger to play every down, but he's matured since leaving OSU. Another guy who can be something if he keeps maturing and takes coaching well.