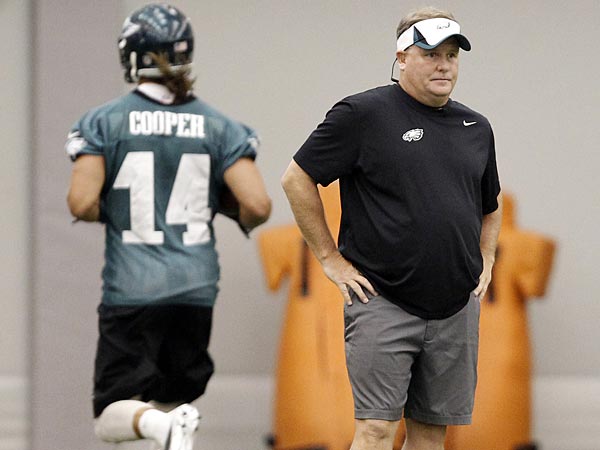 I get extremely tired of other NFL players tweeting inaccurate shots at the Eagles organization. Let's get one thing straight, DeSean Jackson's reported gang affiliation had NOTHING to do with his release. Philadelphia tried trading Jackson last offseason, but didn't get much interest.
Jackson's release is in no way a race issue. Chip Kelly isn't profiling DeSean Jackson or his group of friends. DeSean Jackson was released due to selfish
locker room behavior
.
Another thing that is completely off-base, is to compare the DeSean Jackson release to Riley Cooper's situation last summer. Riley Cooper made a terrible mistake. He paid for his mistake, and still has a negative public image which will never leave him.
However, Riley Cooper is a hard-worker. Riley Cooper is a good teammate. Riley Cooper is an unselfish player. Riley Cooper is 100% bought-in to Chip Kelly's system.
The Eagles locker room has embraced Cooper and the team has moved on.
DeSean Jackson was released because he had his own interests above the team, he didn't work hard off the field (meetings, practice), and he didn't have a good attitude.
Now that Jackson has moved on to Washington, where does this leave Philadelphia?
Well one thing fans can be sure of, the locker room is abundant with leaders. This team is led by players who are fully bought-in to Kelly's program, players who have the team in mind, players who focus on doing their job and winning football games.
The offense is led by a selfless Nick Foles who says all the right things, albeit corny at times. Jeremy Maclin is one of those rare receivers who doesn't have a diva personality. He was injured during camp when he could have been holding out for a new contract, a la DeSean Jackson. Brent Celek is an extremely unselfish teammate, who Kelly said deserves Pro-Bowl consideration based off his blocking alone. The offensive line is a strong, hard-working unit led by Jason Peters, Jason Kelce and Todd Herremans.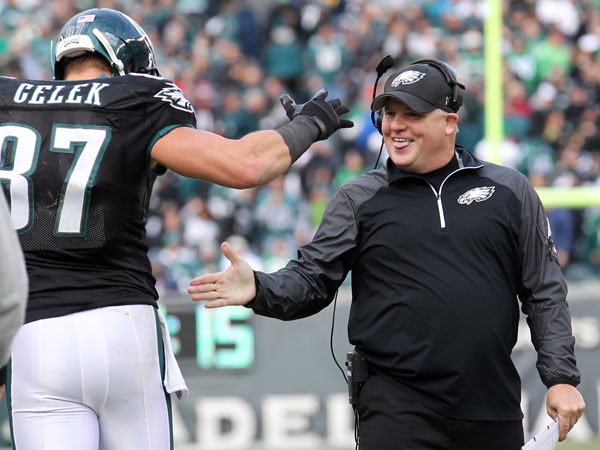 The defense has a young line with hungry guys. Bennie Logan wore number 18 at LSU which signifies model character and work ethic. DeMeco Ryans is as good of a leader as there is in the National Football League. Malcolm Jenkins has been a team captain throughout his football life.
Chip Kelly also sent an important message to the team by releasing Jackson. Allowing one of the highest paid players to miss meetings and exhibit selfish behavior is a way of condoning it. Extending players like Jason Peters and Jason Kelce is showing young players that if you work hard and put the team first, the organization will take care of you.
The locker room culture Chip Kelly has created is an atmosphere that leads to consistent success. Young players will start on the right track, they'll learn how a Chip Kelly player works.
Releasing a playmaking wideout is an unpopular move. But it was the right move to make for the long-term success of the Philadelphia Eagles.
Tired of DeSean Jackson news? Check out some articles that stay off that topic.
- The best move for Philadelphia might be to
not draft a player in the first round.
- Here's an Oregon study I conducted which shows
the average height and weight of each position
under Chip Kelly. A 6-5 receiver might not be in the Eagles future after all.