I think these posts are valuable for Eagles fans. Most experts rank the players on their overall skills, but I'm spending hours ranking players based on how their skills will maximize and translate with the Eagles.
Chip Kelly is set with Fletcher Cox at one DE spot and Isaac Sopoaga at the NT, but that leaves one other DE spot open. This open DE spot and the RT/RG spot are really the only two gaping holes on the roster. Cedric Thorton (6'4" 309 lbs) and Quinton Geathers (6'7" 325 lbs) will compete, but Howie might want to add a more talented player to compete as well.
Here's the top 10 prospects for the Eagles 3-4 DE spot:
Lotulelei disrupts a run play vs. USC.
1. Star Lotulelei, Utah (6'3" 311 lbs): Star has some legitimate star potential. He's a very versatile big man, with the ability to play all three defensive line spots. He has explosive burst off the snap, displaying the agility to slip through gaps and "get skinny". His heavy hands turn offensive linemen into rag dolls and he provides a stout anchor vs. the run. He's typically the first player off the line and displays good awareness. His short arms are a concern and his pass-rush game is still developing (although he's shown an improved swim move). He only has seven career sacks and was diagnosed with a heart condition at the combine. If the heart condition checks out and the team doctors give him the OK, he could develop into a premier lineman in the NFL.
2. Sharrif Floyd, Florida (6'3" 297 lbs): Don't get me wrong, Floyd is a stud. Most NFL people have Floyd ranked above Lotulelei because he has no injury concerns. Floyd is an athletic big man with a quick first step. He's powerful and played a versatile role at UF. His long arms are an asset along with his quick feet and violent hands. He has the ability to shoot gaps and anchor against the run. He's shown improvement and flashes major upside. However, there are serious concerns about his sustained quickness. This issue may provide problems as he tries to translate into a consistent interior pass-rusher. He seems much better suited as a 3-tech DT in a 4-3 defense rather than a 5-tech DE in a 3-4.
3. Datone Jones, UCLA (6'4" 283 lbs): Jones is a strong, long athlete with an explosive burst off the snap. He uses his hands well and has a pretty good pass-rush arsenal. He has good awareness and motor, providing relentless effort. He played a versatile role in college and stepped up as a vocal leader. His size can be an issue when he tries to anchor against the run. He was inconsistent at times, but had a big senior year. Jones may not be a three-down DE for the Eagles until he gains some weight, but should provide significant pass rush in the nickel from day one.
4. Sheldon Richardson, Missouri (6'2" 294 lbs): He possesses a large frame with a thick trunk that allows him to stand his ground. The big man is a surprising athlete, showing quick feet, good burst and some agility. His active hands match his active motor, and he has good vision and awareness. There's upside there but his below-average size doesn't seem to match what Chip Kelly envisions. Richardson only has 13 career starts and has some injury concerns. He has some motivation and character question marks as well. Only 3 sacks in 2012 but did provide pressure up the gut.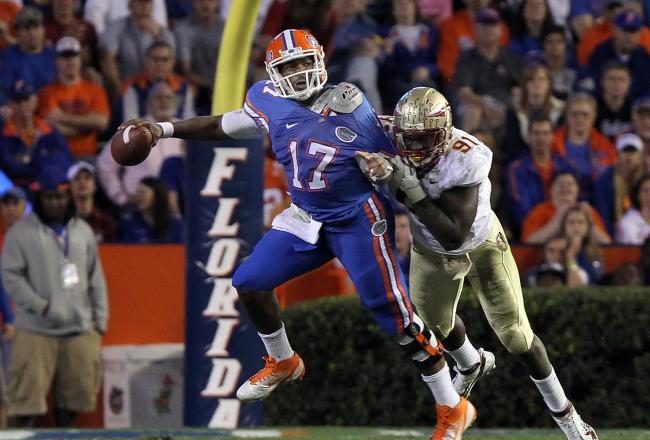 Tank was a force at Florida State
before injuring his ACL last season.
5. Cornelius Carradine, Florida State (6'4" 276 lbs): "Tank", as his teammates call him, is my most exciting prospect among the 3-4 DE class. He has an explosive get-off and displays good strength (strong hands and a strong bull rush). His closing speed is plus and is an athletic guy with good footwork. His motor never stops and he plays with strong leverage. Tackling is never an issue and he displayed good improvement throughout his career. He is still developing some pass-rush moves, and was a late-bloomer. Needs to gain some weight to be an every down DE in a 3-4 defense. He's not an experienced players and struggles with snap anticipation. Tank tore his ACL in the 2012 season finale, but had 11.0 sacks prior to the injury. His impact might not be immediate, but the upside is pro-bowl caliber down the road.
6. Kawann Short, Purdue (6'3" 299 lbs): Short has an NFL body. He played a versatile role at Purdue. Short can handle double-teams and is crafty in his pass-rush. He's athletic enough to drop into shallow zone on occasion. He's a strong guy who's stout against the run and a sure tackler. Quarterbacks have their vision disrupted by his awareness to get in throwing lanes. Short looks like a top-10 pick at times, but has lazy tendencies. His motor runs cold and he lacks multiple pass-rush moves. His body is dis-proportioned thick midsection and thin legs. If a coach can light a fire in Short, the upside is tremendous.
7. Margus Hunt, SMU (6'8" 277 lbs): He's an imposing athlete with tremendous size. The former track star is undoubtedly an explosive athlete, he displayed that with his off-the-charts combine. He has a pretty good burst off the line and has the strength to anchor as a 5-tech. Active hands help shed blocks and disrupt the QB's vision. He's coordinated and has natural strength. The upside is big, but he's older than most prospects, at 25 (insert Danny Watkins joke here). Hunt is very inconsistent and he's a linear athlete that lacks agility. Poor tackling is an issue and stiffness is very clear on tape. Hunt has the size NFL teams covet, but is a raw prospect who's already 25.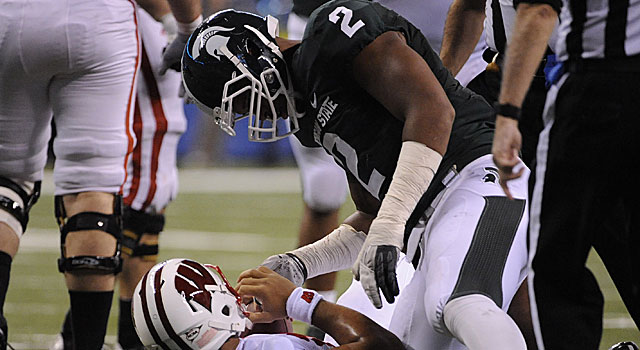 Gholston was a consistent play-
maker at Michigan State.
8. William Gholston, Michigan State (6'6" 281 lbs): He's tall, long, and strong. Gholston has active hands and is an agile athlete. Very productive career (29.5 tackles for loss, 9.5 sacks, 2 forced fumbles combined in the pass two seasons, along with 11 passes defensed in 2012). Gholston has said in an interview that his body is very good at gaining weight, he can put on 20 or cut down 15, he would need to add about 5-10 pounds to be an every down DE for the Eagles. Gholston needs more pass-rush variety and lacks some technique. There are minor questions about motor and character. Gholston could be a mid-round steal with solid upside and an interior pass-rusher.
9. Malliciah Goodman, Clemson (6'4" 276 lbs): Goodman possesses a thick build with long arms. Scouts think he could grow into a 5-tech DE. His hands are violent and consistent and his burst off the line is plus. He has experience handling double teams and has the fiery attitude that will endear Eagles fans. He's a physical run-stuffer for his size and plays assignment-sound football. His snap anticipation is inconsistent however and he plays unbalanced. His pass-rush arsenal is shallow at the moment and his movements are tight. Agility and speed are in question, 4.87 40 yard dash. There's potential there but he's far from a finished project.
10. Bennie Logan, LSU (6'2" 309 lbs): The athletic big guy is versatile, can play 5-tech or NT. He's strong enough to remain stout vs. double teams and uses violent hands to fend off blockers. He's a relentless player who wraps up and hustles every play, displaying surprising burst off the snap. Logan didn't quite improve enough from 2011 and lacks complimentary moves. His stamina is in question and his skills are raw. The versatility and upside make him an exciting option if he's available in the middle rounds.
Two-Point Conversion
-
Honorable mention for Florida State DL Everett Dawkins. Dawkins has a quick first step and gives good effort even when stalemated. He plays with a low center of gravity which helps his leverage since he doesn't have tremendous size. The almost-300 pounder has quick feet and has some good pass-rush technique. His motor runs hot and he has the ability to get skinny through the gaps. His intensity can lead to out-of-control play. His size is not elite and neither is his strength. Only accumulating 0.5 sacks in 2012, so there are questions whether he can finish plays.
Taylor is a developmental project
that could pay down the road.
- An intriguing option for the later rounds, if he's still there, is South Carolina DE Devin Taylor. Taylor has intriguing size (6'7" 266 lbs) and some draft experts believe his body could retain its athleticism and move up close to 300 pounds. He has a freakish wingspan and versatile experience as a 4-year SEC starter. He holds the edge vs. the run and disrupts passing lanes (18 passes defensed and 2 INTs). His motor always runs. He lacks agility and closing speed, plays too tall at times, and is more of a linear athlete.
* Follow me on Twitter @Matt_Chastain25 and @OfficialEagles_, I'll get ya back!