Each year, once free agency begins and up to the draft, the Eagles typically trade players in an attempt to stockpile draft picks. Was Andy Reid the architect of that philosophy, or will the trend continue under the Chip Kelly regime? The upcoming change in defensive scheme will result in players that just don't fit the new style. Let's take a look at players possibly on the trading block and discuss what kind of value they have on the market:
Nate Allen has never lived up
to a second-round pick.
S Nate Allen
- The 2nd round pick has flashed as a play-maker and has disappointed. Last year he was benched in favor of Kurt Coleman and Colt Anderson. The 25 year-old has talent, but is the team ready to overhaul the position? I think there's a reasonable chance Allen will be wearing a different uniform next season.
- Trade Possibility: Decent Chance
- Return Value: 5th-6th round pick.
RB Dion Lewis
- Lewis is an OK change-of-pace back. He's elusive, versatile, and young. There is a very good chance he gets moved this offseason. LeSean McCoy and Bryce Brown will likely get most, if not all, the carries in '13. Chris Polk is the favorite for the third running back spot because he adds special teams value, where Lewis does not.
- Trade Possibility: Good Chance
- Return Value: 7th round pick.
DE Vinny Curry
- Curry has done nothing to warrant a trade. However, at 6'3" 266 lbs, he's a tweener for a 3-4 or 4-3 Under defense. I could see Chip Kelly asking the youngster to put on weight, if at 280 lbs he would have potential as a pass-rushing LDE in the 4-3 Under defense. There is still a slim chance the youngster gets moved because he has value.
- Trade Possibility: Not Likely
- Return Value: 3rd-4th round pick.
Graham had a nice bounce-back
year with 5.5 sacks and 2 FF
DE/OLB Brandon Graham
- Despite being in a crowded rotation at DE last year, Graham was able to have a bounce-back year (5.5 sacks and 2 forced fumbles). He has experience in a 3-4 defense at OLB and was projected at that position by many scouts coming out of college. Graham has cut weight and I think he's almost a sure thing to return in midnight green for 2013. He's still only 24 years old and could be the "Predator" of the future in the Billy Davis defense.
- Trade Possibility: Not Likely
- Return Value: 4th round pick.
QB Nick Foles
- The 2nd year QB played very solid football at times last year and also looked like a 3rd round rookie as well. He has potential but does he fit the ideal Chip Kelly scheme? Probably not. If Foles is traded though, it almost hands Vick the starting job (the only QB I think they'll draft is a developmental guy). I think Kelly and Roseman want competition for Vick, so I think Foles stays.
- Trade Possibility: Not Likely
- Return Value: 3rd round pick.
DE Phillip Hunt
- He was also victim to the crowded DE position last year. After a great preseason, he wasn't a big factor during the regular season. He doesn't seem to have a spot in Billy Davis' defense and there's probably a 4-3 team looking for a speed rusher off the edge.
- Trade Possibility: Good Chance
- Return Value: 6th-7th round pick.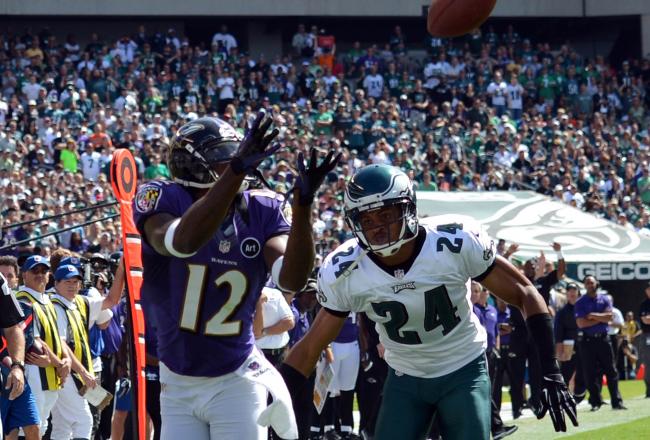 Asomugha's lack of speed was a
major issue last season
CB Nnamdi Asomugha
- Remember the Asante Samuel situation last year? Huge cap number for Nnamdi and chances are he will probably be cut sometime this week. There has been a hold-up in the process however, maybe a team is working on a deal with the Eagles that involves a re-structured contract with Asomugha (like the Samuel trade last year).
- Trade Possibility: Slim chance, but a chance.
- Return Value: 6th round pick.
*
Follow me on Twitter at @Matt_Chastain25 and @OfficialEagles_, I'll get ya back!