Is there a quarterback controversy brewing at the NovaCare Complex? No, not yet. Vick played horrendous football in Cleveland but Eagles fans let it slide, blaming it on rust. Then he looked pretty darn good against the Baltimore Ravens in Week 2 and fans were relieved. But Vick and the offense struggled mightily against a good Arizona defense. Vick has nine turnovers (6 INTs and 3 fumbles lost) and there's no excuse for that.
Today at his Monday press-conference, Andy Reid was less-than convincing that Vick's job was secure. The direct question was "Andy, at what point, if any, do you consider a QB change if the turnovers keep racking up at this rate?"
"Well right now, right now we're with Michael and that's what we're doing. We'll evaluate as we go."
That was Reid's response. I don't think anybody can say that's a ringing endorsement for the starting quarterback. Later, on his weekly radio show, Reid sounded a little different.
"It was the last question, I was finishing up the press conference. Michael's our quarterback. Period. Michael's our quarterback."
Andy Reid has been known before to back players, then change his mind. To take a deeper look into the matter, I traveled all the way back to November 16, 2008.
Donovan McNabb had a rough outing against the Cincinnati Bengals which ultimately resulted in an ugly 13-13 tie. Immediately following the disastrous performance, Andy Reid took the podium. Here's an excerpt from the Q&A.
November 16, 2008:
Q: "Based on how he's (McNabb) gone over the past four games or so, is he on a short leash right now?"
Even McNabb had a short leash under
Reid. The NFL is about winning now
Reid: "No. He's just gotta keep firing."
Q: "How surprised were you to see him struggle like that today?"
Reid: "You're gonna have games like that, man."
Q: "It's not normally your style, but do you think there's a shakeup you need to make?"
Reid: "No. I mean, I'll look at everything but I can't pinpoint one, no."
November 17, 2008:
Q: On how Donovan was missing easy throws and just an overall lack of accuracy. "Is there any situation when he gets like that where you would go to Kevin (Kolb) or a new guy and see what happens?"
Reid: "No. That's not what I'm doing right now. Donovan will continue to be the quarterback."
The next week, McNabb was benched at halftime in favor of youngster Kevin Kolb in a 36-7 loss to the Ravens. McNabb later returned the week after to lead the Eagles to a 48-20 win over the Cardinals behind his four touchdown passes.
Now let's move forward to September 19, 2010. Starter Kevin Kolb was injured in Week 1 against the Green Bay Packers. Michael Vick replaced him, almost finishing off an electrifying second-half comeback. The following week, Vick led the Eagles to a win in Detroit. Right after the game, Reid again addressed reporters.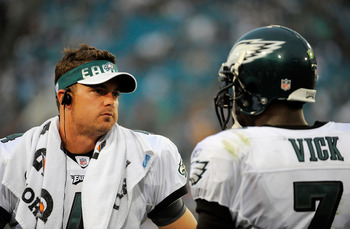 Vick handed the clipboard over to
Kolb in Week 3 of 2010
September 19, 2010:
Q: "Is it hard to go with Kevin after a game like that?"
Reid: "No. Not at all."
Q: "With Kevin, is he cleared with the concussion and do you expect him to start next week?"
Reid: "Yeah, both guys (Stewart Bradley) have been cleared, and yes."
September 20, 2010:
Q: "Andy, what would you say to people who think your best chance to win is with Michael Vick?"
Reid: "Listen, I know I'm in the business where I can't please everybody. I know that, that's not what I'm here to do. I'm here to make the decision that I think is best for the team."
Q: "What is it about Kevin (Kolb) that makes you think he gives you the best chance for the season?"
Reid: "Well, listen, we'll just see how it works out."
The next day, Reid called an evening press conference to officially name Michael Vick the new starting quarterback for the Philadelphia Eagles.
What to make of this:
I believe what Andy said on his radio show. Michael is his quarterback this week. I don't think he's thought about pulling him, yet. Key words there: this week, yet. Vick hasn't earned the right of guaranteed job security. In a "what have you done for me lately?" league, he will have to play better. I'm fed up with his excuses, his promises of how he's going to start taking care of the football. Fans are worn out and frustrated.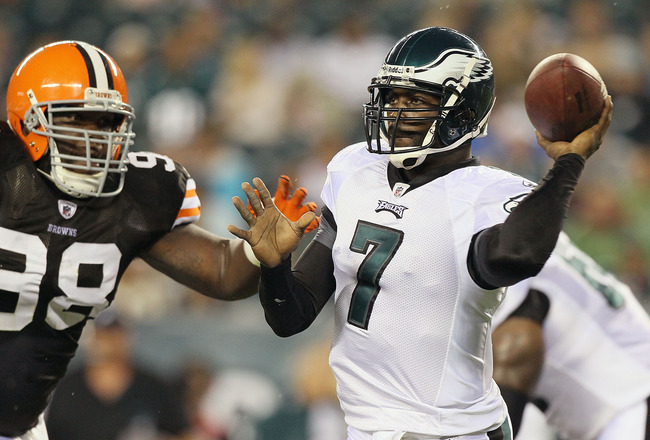 If Vick doesn't slow the turnovers,
he might see some sideline action
Andy Reid is a player's coach. Every week, Eagles fans hear him take the shots for his players' mistakes. He doesn't intentionally break his word, he's making what he believes is the best decision for the football team. Vick hasn't played well, but is Foles a better option? There's really no way to tell. Fans clamoring for the 3rd round rookie are basing it on his stellar preseason performance, however let's remember that he was picking apart second-string, vanilla defenses.
Don't get me wrong, Foles looks great and I believe he can be the future starter in Philadelphia. He gets rid of the ball, throws a great deep pass, and has nice touch. He's also a big, strong kid who can see clearly over the tallest defensive lines. But I also strongly believe Vick gives the team the best chance to win now. If Vick can't improve his turnover rate though, Reid has no choice but to yank the star. There's no situation where I see Foles taking over long-term for Vick, yet. Could I see Reid pulling Vick for a series or two, or a quarter? Absolutely.
Even though I don't see Foles getting playing-time this Sunday, it's definitely a story to watch. If Vick comes out and puts together three straight sloppy possessions to start the game, the home crowd might show their impatience. The pressure is squarely on the shoulders of Andy Reid and Michael Vick this week. How they deliver will say a lot about the season moving forward.
Follow me on Twitter @Matt_Chastain25 and @eaglesallday95, I'll get ya back.