Philadelphia's week three opponent is no slouch. Arizona is a disciplined, smart football team who is well-coached. Even though the Eagles remain unbeaten, the sloppy play cannot continue to result in victories. If the Eagles plan to move to 3-0, they must play a smart football game from start to finish.
Arizona Cardinals:
Record - 2-0
By the Numbers:
Offense:
Points per game - 20.0
Offensive yards per game - 249.0
Pass yards per game - 175.0
Rushing yards per game - 74.0
Third down conversion rate - 29.2%
Defense:
Points allowed per game - 17.0
Yards allowed per game - 320.5
Passing yards allowed per game - 218.0
Rushing yards allowed per game - 102.5
Third down conversion rate allowed - 32.3%
By the Film:
Offensive Philosophy:
Smart, safe football - Arizona tries to play 49ers style football. The problem: Kevin Kolb doesn't take care of the football quite like Alex Smith has under Jim Harbaugh. There were many plays in the New England game where the Cardinals faced third and medium-to-long and were completely content with punting the football away. They ran running plays like draws and pitches out of the shotgun. The pass plays used were screen passes and throws underneath. The main objective: take care of the football and trust their defense.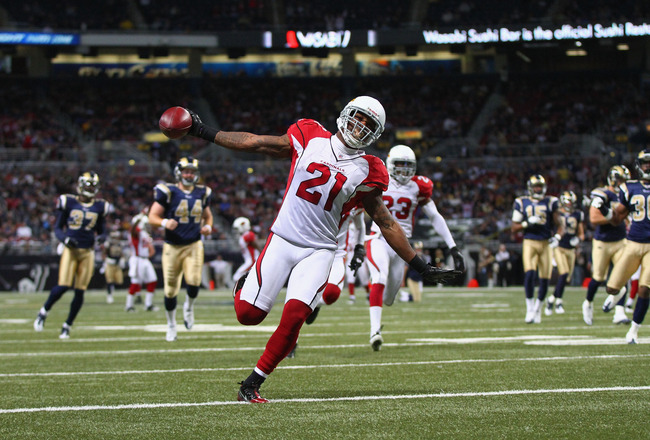 Second year stud, Patrick Peterson, is
a playmaker on both sides of the ball
Yards by all means necessary - Arizona will use second-year cornerback Patrick Peterson as their wildcat quarterback. Playmaker Larod Stephens-Howling will get some screen passes from Kolb, and with an aggressive Eagles defensive-line, the screen-game could be an effective way to get chunks of yardage. Rookie LB Mychal Kendricks, whose been asked to cover opposing running backs very often, will have his instincts tested.
Pound it, pound it, pound it - Arizona's run-game has been anything but effective early in the season. But don't try to convince Head Coach Ken Whisenhunt to abandon the run game. They will run it again and again, no matter the success. It sets up the play-action and keeps them from being one-dimensional.
Disciplined offense - It was tough to find penalties called against Arizona. They display all the attributes of a well-coached football team. Even with a very shaky offensive line, they play disciplined, rarely committing a false start. The Cardinals execute; one of the biggest reasons they've been able to win with a lack-luster offense.
Don't underestimate Kolb's wheels - I've said this in my earlier post (Quick Scouting Report: Arizona Cardinals), and I stick by it; Kolb might lead Arizona in rushing yards against Philly. Philadelphia has been running much more man defense than in past years, which means the middle of the field will be cleared out on some plays. With every Eagles D-Lineman bursting up field, there will be opportunities for Kolb to step up and take off.
Defensive Philosophy:
Now you see us, now you don't - Defensive Coordinator Ray Horton, disciple of the great Steelers D-Coordinator Dick LeBeau, runs a complex scheme. They show complex looks but play tight, man-to-man coverage. There were plenty of occasions against New England when Arizona showed pressure and only brought four. That could be a dangerous tactic against the Eagles, with no safety deep initially, but Vick has been flustered mentally many times before.
Timing is everything - When Arizona does bring pressure, it usually finds home. Opposing QBs have had issues against the Arizona blitz which means one thing: Horton knows when to bring on the dogs. Vick had a good week against the Baltimore blitz last Sunday and he'll need to have a similar performance this
week.
These LBs can cover - Tom Brady had to deliver good balls in tight windows to find Gronkowski last week. Against the Ravens, Celek found acres of open spaces for Vick to find him. This won't happen against Arizona's man defense. These linebackers can run stride for stride with tight ends and some running backs. They play smart, instinctive football.
Philadelphia's Point of Attack:
Winning the Battle Against the Arizona Offense:
Collapse Kolb's space - At a slight feeling of pressure, Kolb bails. He wants no part of a tight pocket, his pocket-presence is definitely a weakness. Throw in some stunts on obvious passing downs and Kolb will run himself into a sack or two. He likes room to step up and he'll escape the pocket to find it, which will eliminate one side of the field.
Make AZ one-dimensional - They will run, and run often. But the Eagles can't allow it to be successful. Ray Rice had some big gainers in the first half last Sunday but Juan Castillo and company really tightened things up. Philly's second-half run defense has been nothing short of outstanding; on 20 second half carries, Philly has allowed a stingy 33 yards.
Do what you do - There won't be a need to blitz very often. Kolb will make a few nice throws in tight coverage, but I don't think he can contain it for 25 pass attempts. There will be some errant throws which the Eagles can capitalize on. Don't give Kolb many chances to exploit a blitz with an easy completion.
The Eagles line was very disruptive
without putting up big sack totals Sun.
Short and sweet - I don't see Arizona suffering many sacks, but that doesn't mean the Eagles defensive line won't cause mayhem. Philadelphia forced Baltimore out of their vertical attack and made Flacco settle underneath all afternoon. Kolb and the Cardinals don't like negative plays because they don't have the explosiveness to recover.
Finish the play - Philadelphia's tackling has been vastly improved over last year's debacle. Kolb's ability to escape a sack and keep a play alive is underrated, there's no denying that. He's not going to keep his eyes down-field like a Ben Roethlisberger or his Sunday opponent, Michael Vick, but he'll turn a couple seven-yard losses into three-yard completions. This was very evident against the New England Patriots. Bring the man down and finish the tackle.
Beating a Disciplined Defense:
Keep firing down-field - The Cardinals will show blitz often on passing downs. They'll bring safeties up, although they will sprint back into coverage of occasion. If there's a one-on-one matchup on DeSean Jackson, go deep. There's nobody that can run stride-for-stride with DeSean for sixty yards. Even if they are incomplete passes, the vertical passing game keep the defense honest. It also leads to penalties on the defense which can ignite an Eagles drive.
Remember that one play? - On the second play of Philadelphia's game-winning drive last week, Vick threw a back shoulder throw to Celek up the seam. If the Cards play two-deep man and Celek has one-on-one coverage up the middle, Vick needs to read the 'backer. If the LB is on his outside hip, throw the skinny post. If the LB is on his inside hip, throw the back-shoulder pass.
Shady being Shady - Arizona's defense is always in pursuit, they flow to the football. Nobody in the NFL has mastered the cutback quite like RB LeSean McCoy. If the Arizona linebackers commit one-way, Shady will flip the play and head the other way, maybe for some big runs.
Dockett and a good Cards D-Line will
challenge the Eagles new linemen
Depth will be tested - Center Dallas Reynolds and left tackle Demetress Bell will be starting their first games as Eagles. Darnell Dockett and Calais Campbell are two very talented athletes and the Eagles O-Line will have its hands full. Will the protection be in-sync? Communication will be key, and will be difficult in the loud Arizona dome.
Matchup Time:
Experience vs. Talent:
Eagles Offensive Coordinator Marty Mornhinweg vs. Cardinals Defensive Coordinator Ray Horton
Marty called a brilliant game against the Ravens last week, but Horton called an equally successful game against Tom Brady and the Patriots. Will Marty and Andy be able to exploit the few weaknesses they saw on film? Will the talented, but young Ray Horton be able to out-smart a man who's been battling coordinators for years? Vick will need defined reads and open throws to get his confidence going. The Cardinals will look to rattle the QB early and often.
Follow me on Twitter @Matt_Chastain25 and @eaglesallday95, I'll follow you back.