Last July, the Philadelphia Eagles traded Kevin Kolb to the Arizona Cardinals. This trade had an enormous impact on the Eagles defense that fans have enjoyed thus far in 2012. Let's take another look at what Philadelphia fully got in return for their short-time starting quarterback.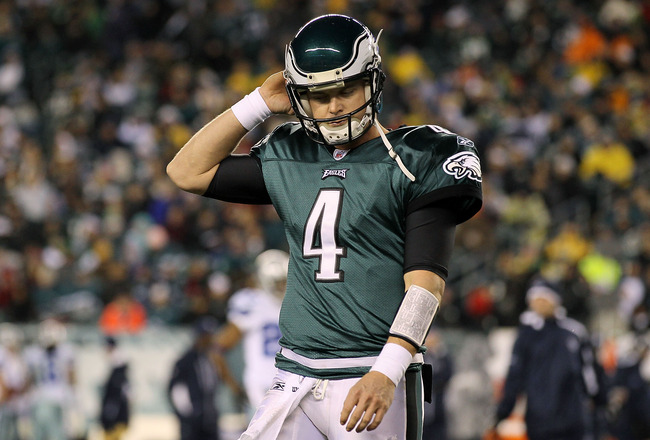 Kolb was up and down
during his time as an Eagle.
Philadelphia sent QB Kevin Kolb to the Arizona Cardinals in exchange for CB Dominique Rodgers-Cromartie and a 2nd round pick in the 2012 draft (51st overall pick). In year one, Rodgers-Cromartie was forced to play the nickel position with Philly's logjam at cornerback, and didn't play great. After the Eagles dealt Asante Samuel to Atlanta prior to this year's draft, Rodgers-Cromartie was back at his full-time outside role. So far in 2012, he's played at a very high level (2 INT in two games).
During this past year's draft, the Eagles traded the pick acquired from Arizona to Green Bay in exchange for the 59th pick and the 123rd pick in the draft. With the 59th pick, Philly took DE Vinny Curry from Marshall and with the 123rd pick they took CB Brandon Boykin from Georgia. Vinny Curry had an impressive camp and preseason, but with Philadelphia's plethora of defensive ends, he's been inactive so far this season. After releasing long-time nickel CB Joselio Hanson, Brandon Boykin has taken over as the starting nickel corner and thrived. His leaping deflection over the 6'2" Jacoby Jones was just one of the many plays the electrifying rookie has made in his short stint as an Eagle.
Vick looks to avenge last year's loss.
Kevin Kolb has been a disappointment in Arizona thus far. Arizona signed Kolb to a lucrative contract worth a maximum of $63.5 million over 5 years with $21 million guaranteed. Kolb started nine games for the Cardinals, leading them to a 3-6 record and throwing 9 touchdowns versus 8 interceptions. So far this year though, Kolb led the game-winning drive against the Seahawks and beat the New England Patriots.
Kolb gets his chance to beat his former team this Sunday at 4:05 pm ET. He missed last years showdown due to injury, a game which Arizona won 21-17. I'm sure Vick can't wait to avenge last year's upset.
Follow me on Twitter @Matt_Chastain25 and @eaglesallday95