This is my weekly column designated to delving into the mind of the Eagles' general, Andy Reid. This is a time when I put my optimism aside and give brutal honesty. Let's take a look at some of the issues surrounding a flat performance in the 27-6 loss in Arizona.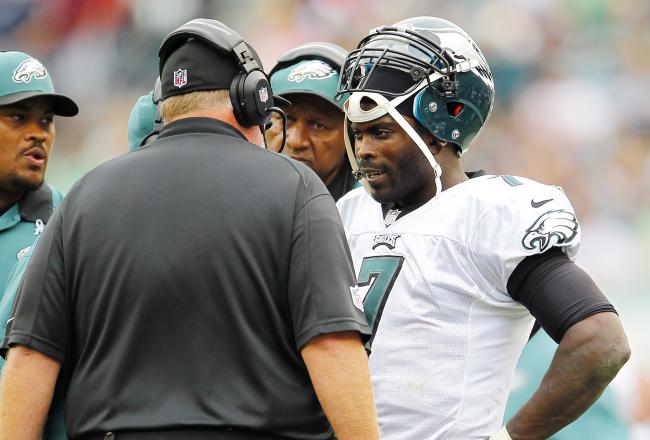 Andy Reid absolutely has to give
his QB a better run/pass ratio
Making sense of the run/pass ratio - There's no feasible way to make any sense out of the lopsided play-calling. Eagles fans are probably hoarse from screaming at their televisions. By my unofficial count, in 63 offensive plays, Marty dialed up 46 pass plays (37 pass attempts, 5 sacks, 4 Vick scrambles) and 17 run plays. When your quarterback is getting hammered the way Michael Vick was in the first half, you HAVE to help him out. Andy didn't. Vick was repeatedly taking blow after blow and getting no breathers in between, dropping back in consecutive plays. It's sad to look back and think about how a couple rushing first downs could have got the offense flowing.
Final three plays of the first half - I have no problem with three passing plays. Let's look at the situation, 1st and goal at the one-yard line with 16 seconds left and no timeouts. Many fans on Twitter were screaming for a McCoy run, but if he doesn't get in the endzone there, the team has enough time for a spike and a field-goal. A run call there gives you one shot, while you get three shots with a pass play. It's completely Vick's responsibility to point out safety Kerry Rhodes so he doesn't become a free rusher. There are times when the play-call is at fault, and there are times when the players' execution is at fault.
Vick and the offense weren't in-sync
for very much of the afternoon
Details, details, details - The Eagles lack detail in their performance, and that is a direct reflection on the head coach. Missed tackles, poor angles in pursuit, blown coverages, missed assignments in protection, lack of effort, etc. are all tied to lack of detail. That falls on the head coach and the rest of the staff. The defense was so sharp and precise in the first two weeks, but they reverted back to their 2011 defense this afternoon. Kolb had easy completions to Andre Roberts and Jeff King that kept drives alive. These were wide open throws, throws that you and I can make. Nothing aggravates me more than giving up free first downs to the offense. The missed assignments in protection are a combination of faults. Vick hasn't been sharp in recognizing blitzers consistently, and the offensive line has faced some challenging injuries. This isn't all on Reid.
Time-management woes - I thought Reid and Mornhinweg's game-plan was backwards. The game started off so pass-happy, no balance whatsoever. Then, trailing 24-0 with time a big factor, Mornhinweg relied on the run-game to ignite the offense. The offense looked smooth in the third quarter. Quick comeback routes, off-tackle runs, swing passes were all part of the plan to get the offense going. But why wait until the second half? If there were ever a time to run a pass-heavy offense, it was at a time when trailing by more than three touchdowns. We have to have balance from kickoff on. It's much easier to defend a team who is one-dimensional.
Vick doesn't stand a chance to play
a healthy season with all these hits
Why the fans deserve an explanation - I would love to hear Andy Reid say that the imbalance in play-calling was his fault and it won't happen again. I would love to hear Andy Reid say that he's going to give Vick quicker reads and smaller chunks of yards to eliminate negative plays and ignite our offense. Eagles fans have been beating this dead horse for years. It's hard to argue with statistics, Reid has a pedigree as an offensive-guru and has proven success. This Andy Reid philosophy has resulted in offensive records for the franchise, weeks where Vick has looked unstoppable, and more importantly, repeated periods of inconsistency. Fans deserve an explanation as to how Reid can possibly think 46 pass plays will cut down on the hits Vick takes. He needs to explain how arguably the best back in the league should only touch the ball 16 times. He needs to explain how repeated slow-developing pass plays can get the offense in a rhythm. The problem: he can't explain that.
Andy Reid isn't going to change. He has faults but when things are clicking, the team will look great. He'll be sure the team bounces back next Sunday night against the New York Giants.
* I'll be doing a post later tonight telling the fans why the glass is still half-full. Be on the look out for that one.
Follow me on Twitter @Matt_Chastain25 and @eaglesallday95