1. I still think it's a mistake to trade away DeSean Jackson.
Unless Howie Roseman can get a 3rd AND a 5th or more, I don't see the value in it. Chip Kelly has full command of this locker room. As Mychal Kendricks said, DeSean was not a distraction last season.
Chip likes to stretch the field vertically and horizontally, well he won't find anybody better at stretching the field vertically than Jackson. He opens up running lanes for McCoy because safeties can't play in the box. The Eagles currently have the best arsenal of offensive weapons in football, why give away the most dynamic one for low value?
2. Thank you, Michael Vick.
Say what you want about Michael Vick; he's injury-prone, a turnover machine, he holds the ball too long. One thing you can never say about Michael Vick: he didn't give 100% every play.
Vick battled nagging injuries and played hurt on numerous occasions. He was no doubt frustrating due to inconsistency, but he was fun to watch. I think I speak for most Eagles fans when I say, "Best of luck, Mike."
3. Barkley is likely the backup in 2014.
In case you missed it, Jason La Canfora tweeted out that Philadelphia has yet to show any interest in free agent quarterbacks. Maybe they were letting the Vick scenario play out before reaching out to any, but I think there's a very good chance Matt Barkley is the backup next season.
I'm confident in Matt. He is finally healthy, he's definitely got the talent, and he's already a year deep in the offense. I expect a very strong preseason for the second-year quarterback.
4. Don't rule out a trade down in round one of the Draft.
In my personal opinion, pass-rusher is the biggest need on this football team. To be honest, I don't see great value with Auburn's Dee Ford at 22. Players like Louisville's Marcus Smith, Georgia Tech's Jeremiah Attaochu, and BYU's Kyle Van Noy should be available in the early second round.
Here's my scenario: lure a QB-needy team like CLE, OAK, HOU or JAX into trading back into the first round to take a Derek Carr or a falling Teddy Bridgewater. The Eagles could get an early second rounder, and at least a fourth, likely more. In a draft that is especially deep, that could be the best way to get maximum value.
5. There are a few under-the-radar names who the Eagles could target in round one.
Notre Dame's monster lineman Stephon Tuitt has as much upside as anybody in this draft. He could provide good value at 22. Alabama's ILB CJ Mosley is a guy who could take a minor tumble this May. He and Kendricks could provide an outstanding tandem for years to come. WR Marquise Lee is a play-maker. Chip Kelly heavily recruited him while at Oregon. Especially if this DeSean Jackson trade happens, Lee would fill that play-making void.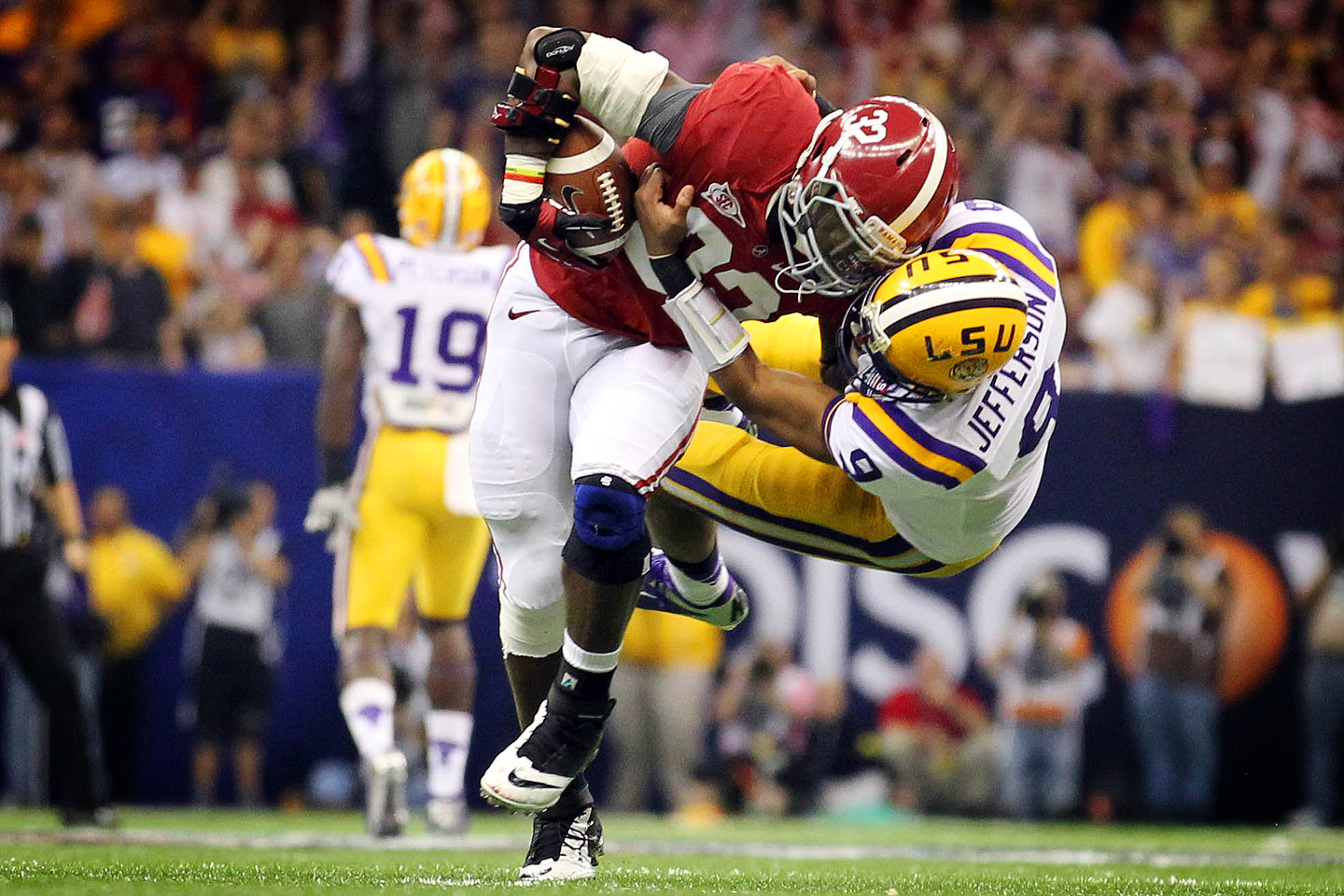 Mosley is an exciting possibility at 22 in this year's draft.
6. Darren Sproles excites the hell out of me.
I've watched a few New Orleans games from last year to gauge what type of impact Sproles would play and see how much he has left in the tank. I was pleasantly surprised.
Even when Sproles wasn't targeted, he gets open on almost every play. He literally seems impossible for a LB to cover one-on-one. He's a savvy route runner, with sharp breaks in his cuts. As far as wear-and-tear is concerned, he's got a few productive years left. He doesn't take big shots and he's not an every down player. I see Sproles being effective until he's 34.
One last note, I also watched about six Eagles games over the past week. Nick Foles does hold on to the ball too long, but in a good way. There are times when DeSean was doubled and Cooper couldn't get open. With the additions of Maclin and Sproles, I don't see how a defense can effectively cover all those weapons. There is going to be a lot of open targets for Foles in 2014.