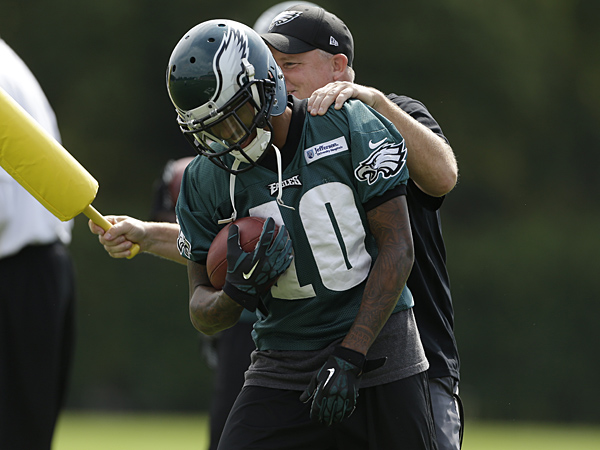 Like every single one of you, I'm over this DeSean Jackson drama. I vowed to write about other things instead of boring viewers with the same daily update in different wording.
Up until late last night, it was unanimous that DeSean Jackson's days were numbered in Philadelphia. Howie Roseman and Chip Kelly had multiple opportunities to discredit rumors surrounding their star wideout. They didn't.
Even other teams were discussing Jackson's apparent availability. Jets Owner Woody Johnson clearly committed a tampering violation, saying his team had interest in Jackson's services. The Oakland Raiders said they were interested in DeSean but hesitant to give up draft picks
But last night at approximately 1:25am ET, Jackson decided to throw another curveball at the confused fan base. Here is his Instagram post: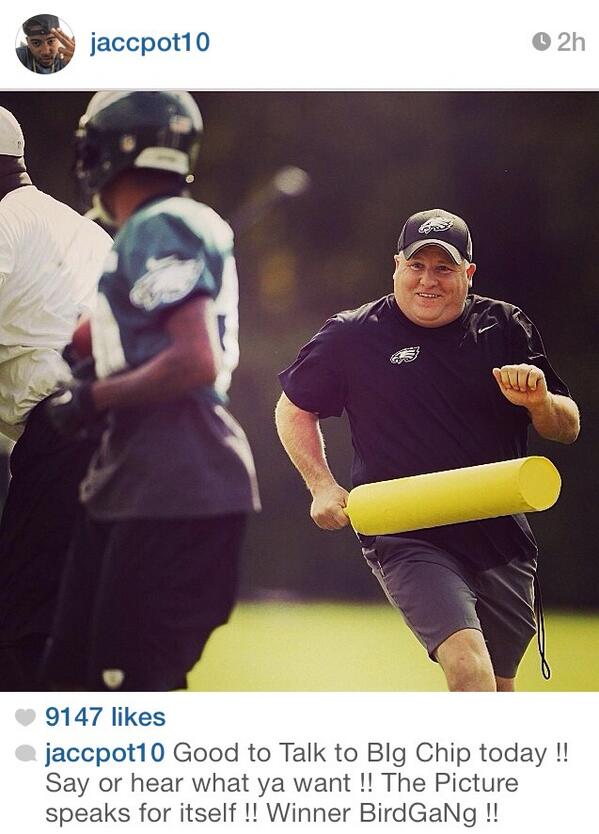 Now I'm no expert at decoding Jaccpot's Instagram photos, but this sure seems like a positive development. Twitter was abuzz with statements from fans who were sure Jackson would remain an Eagle. I, myself, was a bit hesitant to come to that definitive conclusion.
But within the past half hour, more developments have arose that hint at a return for DeSean Jackson. Philly Daily News' Les Bowen reports a source in Jackson's camp said Chip Kelly told DeSean not to worry about anything, keep working, and get ready for camp. Another positive sign.
To add more fuel, The Inquirer's Jeff McLane reports DeSean Jackson talked to teammates recently and said he's staying in Philadelphia. Either Jackson insinuated that conclusion from their conversation, or there were more details that have yet to be revealed.
My take is this: Chip Kelly and Howie Roseman were definitely interested in moving DeSean Jackson. This could've been squashed two weeks ago, but the head coach and GM decided not to go that route. I do think Kelly and Roseman are only interested in moving Jackson
at fair value.
Chip Kelly speaks with the media tomorrow morning for an hour long roundtable interview, which he's sure to hate. It's another chance to dispel rumors. Either he firmly takes that stance and assures fans another year with Jackson, or he dodges the issue, which indicates the team is still listening to offers.
Either way, positive morning for Eagles fans. Well, at least the fans in favor of keeping Jackson.